Award Winning Songwriter and Folk Artist Ash Devine 
Award winning songwriter, folk-americana-country musician and multi-talented humanitarian performance artist is based the Blue Ridge Mountains of Asheville, North Carolina.  Ash's unique and classic folk sound and interactive stage presence has been compared to the legendary Woody Guthrie and Pete Seeger.  Recently seen on stage with grammy winning folk artists David Holt and Sheila Kay Adams, Ash Devine's folk Fusion style gleans sounds of Appalachian traditional folk, americana-pop and classic rock. Ash Devine is an accomplished instrumentalist on finger-style and Carter Scratch Guitar and innovative original Ukulele playing. Her breathy and rich vocals and finger picking guitar styles sound like a marriage of Maybelle Carter and Pete Seeger with Kate Bush as the producer .
1st place Brown Bag Songwriter Comp:2010
1st Place Music Selection Twin Rivers Media Festival 2009
1st Place Best Composition: Downtown Music Lab 2004
"Ash Devine's vocals whisper like an old timey back woods wind. " -Beth Simpson
Ash's stage presence is dynamic, charismatic and steeped in audience connection and participation. Comparable to Pete Seeger, Ash weaves activist themes and stories of human and environmental struggle and community into her songs and stories and often invites audiences to join in song.
Ash Devine plays Maybelle Carter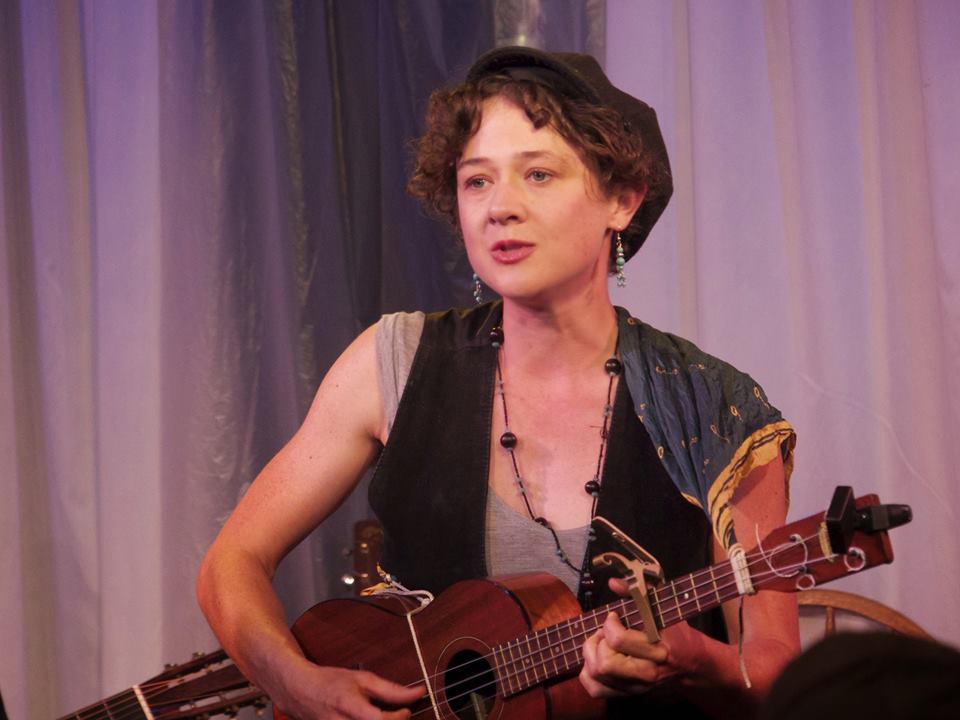 In summer 2015, Ash Devine blew audiences away with her finger picking Carter scratch style when she starred as legendary country stars Maybelle Carter of the Carter Family in the Parkway Playhouse production of "Esley: The Life and Music of Leslie Riddle".  As co-musical director, Ash Devine authentically re-created the Carter family sound. Ash offers concerts featuring traditional folk and music of the Carter Family. Concerts are available solo or with a band accompaniment. 
"Ash Devine and Saro Lynch Thomason did a fine job, and really caught the essence of that dry yet driving Carter family harmony." Grammy Nominee Musician and Folk-Lorist  David Holt 
" Ash Devine was channeling Maybelle Carter."-Minnie Powell (Musician )
"Her whispers like a backwoods wind " -Elizabeth Simpson – Activist and Artist

See the tour dates here !