Socially Distant Spring-Summer Performances 2021
Sunday, May 9th 2021: Mother's Day Concert 2-5pm @ Moon Hollow Brewing Company Blacksburg, VA -Outdoor and social distance compliant event
Saturday, May 29th: Memorial Day Weekend Concert 6-9pm @ Rising Silo's Brewing Co- Blacksburg, VA –Outdoor and social distance compliant event
Sunday, June 13th: Music of the Carter Family ++ One woman show: The White Horse Black Mountain– Black Mountain, NC. 7pm-8pm. Limited Audience seating- social distance compliant and Live-streamed event.
Friday, June 18th 2021: Father's Day Weekend Concert at Moon Hollow Brewing Co. 6:00-9pm -Blacksburg, VA – Outdoors and social distance compliant event
Saturday, June 26th: Art Opening and Concert/Cookout 6-9pm: Flood Gallery and Fine Arts Center –Black Mountain, NC– Partially outdoors and social distance compliant event
Saturday, July 3rd- Asheville City Farmer's Market– AB tech Campus 10am-1pm Asheville, NC Outdoors and social distance compliant event
Friday, August 6th- Moon Hollow Brewing Co-6-9pm- Blacksburg, VA Outdoors and social distance compliant event
Friday, August 27th- Rising Silo Brewing Company/Glade Road Growing– 6-9pm Blacksburg, VA Outdoors and social distance compliant event
Friday, October 9th- 3rd Street Coffee House Concert Series- (Facebook only) Roanoke, VA – Livestream online only concert visit on FB page @3rdstreetcoffeehouse
Oct 31st-Nov 6- " Uke Can Do It!"-Intro to Ukulele week long immersion workshop at John C Campbell Folk School in Murphy, NC- register at John C. Campbell Folk School
More dates TBA ! contact bookashdevine@gmail.com for more info about booking
"Ash Devine's vocals whisper like an old timey back woods wind. " Beth Simpson (producer)
"Ash Devine's music has a classic folk sound without pretense, Devine is the real deal." –Tret Fure (Award-winning songwriter and producer)
Award-winning Americana-folk singer-songwriter, traditional Appalachian musician, multi-instrumentalist, community arts program designer and teaching artist Ash Devine is based the Blue Ridge Mountains of Asheville, North Carolina and Floyd, VA. Devine is an accomplished vocalist and multi-instrumentalist and she has recorded and self-produced two albums of original Americana-folk-Appalachian fusion music and is currently working on her third.
Beyond incredible musicianship, Devine's unique strength is stage presence and connection with her audience. Comparable to Pete Seeger, Ash gently weaves themes of social and environmental justice into her performances, while encouraging the audience to join in song.
Biography:
Originally from the Blue Ridge mountains of Virginia, Devine is based in the Western North Carolina region near Asheville, NC. Ash's music and work as a teaching artist is influenced by her international travels with activist M.D.Patch Adams, and her upbringing in southern Appalachia.
From 2007 to 2014 Ash Devine traveled internationally with activist Patch Adams, M.D. to perform in medical facilities, orphanages, social service centers, and nursing homes. Inspired by Patch, Ash designs and facilitates therapeutic Interactive Music Programs in retirement communities, homes for disabled persons, and other care settings.
In 2015 Ash Devine starred as the legendary Maybelle Carter and musically directed the play "Esley: The Life and Music of Leslie Riddle". From 2016-2018 Ash Devine studied Appalachian traditional folk songs from the Western, NC area with Smithsonian Folkways Award winning ballad singer Sheila Kay Adams. In 2018, Devine was invited to join a group of WNC Appalachian song carriers to perform at the Library of Congress at the American Folk Life Center in Washington, DC.
In 2017, Devine recieved a graduate degree in Gerontology from Appalachian state University, with aim to deepen her ability to provide meaningful music programming for older adults, and intergenerational groups. The "adult day community folk choir" designed and directed by Ash Devine, included 20 older adult participants with various levels of memory loss and dementia related conditions.
In addition to her concerts in folk venues, private events, and house concerts, Ash performs and teaches nationally in nursing homes, schools, homes for disabled, adult day care centers and community based events.
Ash's unique background and ability to connect with her audiences through story and sound makes her music deeply relatable and emotionally compelling for people of all ages.
Ash Devine is award winning:
1st place Brown Bag Songwriter Comp: 2010
1st Place Music Selection Twin Rivers Media Festival 2009
1st Place Best Composition: Downtown Music Lab 2004
Visit Ash's Electronic Press Kit
Ash Devine, the Appalachian folk tradition, and Maybelle Carter
In summer 2015, Ash Devine blew audiences away with her finger picking Carter scratch style when she starred as legendary country stars Maybelle Carter of the Carter Family in the Parkway Playhouse production of "Esley: The Life and Music of Leslie Riddle". As co-musical director, Ash Devine authentically re-created the Carter family sound. In 2018, Devine directed and co-produced A tribute to Carter Family and Women in Old Time at the White Horse Black Mountain, NC. In 2020, Devine developed a one woman show highlighting stories and songs from the Carter Family, and the origins and history of their music. Ash offers concerts featuring traditional folk music from WNC and music of the Carter Family. Concerts are available solo or with a band accompaniment.
"Ash Devine and Saro Lynch Thomason did a fine job, and really caught the essence of that dry yet driving Carter family harmony." Grammy Nominee Musician and Folk-Lorist David Holt, Grammy nominee, folklorist and Award-winning musician

" Ash Devine was channeling Maybelle Carter."-Minnie Powell (Musician )
Ukulele Workshops Winter 2020:
Ash Devine offers beginning and intermediate Ukulele Workshops and private lessons online for adults and youth.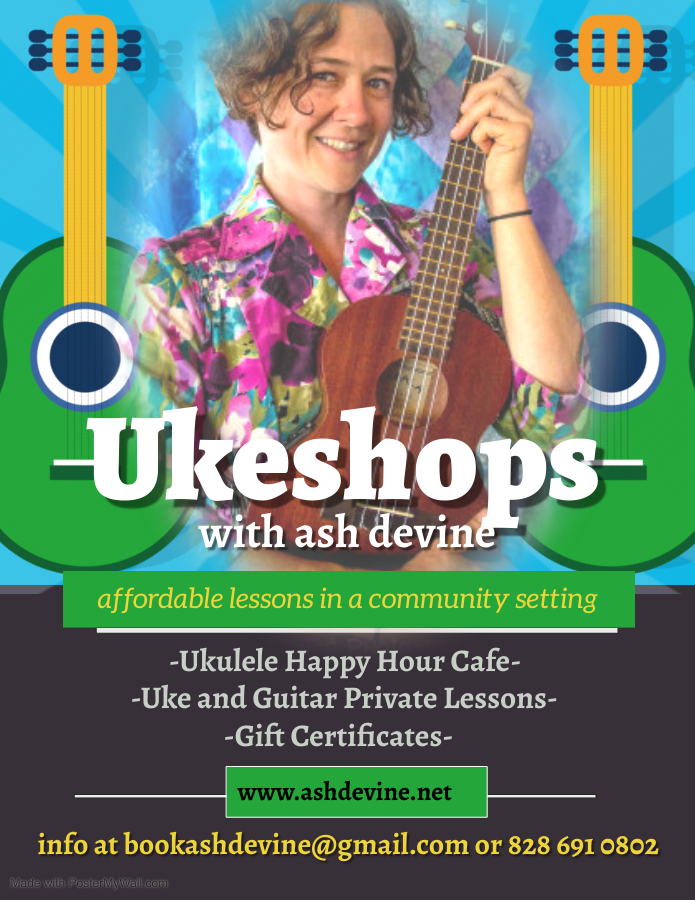 To schedule a Uke workshop or lesson series, please contact Ash Devine at bookashdevine@gmail.com