The award-winning and versatile Appalachian-indie-folk-country-fusion singer-songwriter, performance artist, and arts program designer Ash Devine is based the Blue Ridge Mountains of Asheville, North Carolina and Floyd, VA. Devine is known has been referred to as one of the last 'true folk troubadours' and she is known for her unique finger-style ukulele and guitar sound, and for her participation in activism through music, education, and the arts. In addition to producing several albums of original music, Ash has performed and studied along side Nobel peace prize nominee Patch Adams M.D., Smithsonian folk ways award winner Sheila Kay Adams, Grammy award nominee David Holt, and a number of other renowned folklorists, musicians, and social activists. Her versatile Appalachian folk revival-fusion sound is bursting with stylistic variety, relatable story, and historical facts. Her music is influenced in style by Traditional Appalachian, Joan Baez, Joni Mitchell, Jean Richie, Pete Seeger, Woody Guthrie, Maybelle Carter, Leslie Riddle, Ani Difranco, Kate Wolfe, Bob Dylan, and reggae/world music influences such as the Wailers, Jimmy Cliff, and west African traditional music.
In 2015 Ash Devine starred as the legendary Maybelle Carter and musically directed the play "Esley: The Life and Music of Leslie Riddle". From 2016-2019 Ash Devine studied Appalachian traditional folk songs from the Western, NC area with Smithsonian Folkways Award winning ballad singer Sheila Kay Adams. In 2018, Devine was invited to join a group of WNC Appalachian song carriers to perform at the Library of Congress at the American Folk Life Center in Washington, DC. Devine performs all original concerts, blended traditional/contemporary/original variety style concerts, a one woman show about the legendary Carter Family and the influences and origins of the music they played, and Devine performs personalized therapeutic and formal concerts for the care setting. See the rest of Ash's interesting and unique biography here.
"Ash Devine's music has a classic folk sound without pretense, Devine is the real deal." –Tret Fure (Award-winning songwriter and producer)
Beyond incredible musicianship, Devine's unique strength is stage presence and connection with her audience. Comparable to Pete Seeger, Ash gently weaves themes of social and environmental justice into her performances, while encouraging the audience to join in song.
Socially Distant Spring-Summer Performances 2021
Friday, June 18th 2021: Blacksburg, VA- Moon Hollow Brewing Co. 6:00-9pm- Outdoors
Saturday, June 26th: Black Mountain, NC- Art Opening and Concert/Cookout 6-9pm: Flood Gallery and Fine Arts Center – Partially outdoors
Saturday, July 3rd- Asheville City Farmer's Market– AB tech Campus 10am-1pm
Sunday, July 18th– Prices Fork, VA at Moon Hollow Brewing Company 5-8pm
Saturday, July 24th–Salem, VA- Parkway Brewing Co. 1:30-4:30pm w/ F.M
Friday, August 6th-Blacksburg, VA Stepping Out Music and Arts Festival 2pm Acoustic Stage w/F.M. Turner
Sunday, August 8th-Blacksburg, VA Moon Hollow Brewing Co with special guests!
Sunday August 15th– Salem, VA Parkway Brewing Co. 1-3pm
Monday August 16th- Blacksburg, VA Warm Hearth Kroontje Health Center
Thursday August 19th- Staunton, VA House Concert w/Molly Murphy-
Contact bookashdevine@gmail.com for details
Friday August 20th- The Legacy at North Augusta Retirement
Friday August 21st- The Legacy at North Augusta Memory Care
Sunday, August 22nd- Takoma Park, MD- Takoma Park Gazebo w/Annette Wasilik and the Porch Men, Free and open to the public and live streamed on FB Live
Friday, August 27th- Blacksburg, VA Rising Silo Brewing Company-w/ F.M. Turner 6-9pm
Saturday August 28th–Blacksburg Farmers Market 9:30am-12pm
Thursday Sept. 2nd–Floyd, VA Floyd Yoga Jam Festival w/F.M Turner @ Beer Garden 5:30-6:45pm
Saturday Sept. 4th–Axton, VA Appalachian Vibes Music Fest-10am Uke Workshop, 1pm performance
Friday Sept 10th- Roanoke, VA Sweet Donkey Cafe-6:30-9pm
Saturday September 11th- Blacksburg,VA @ 5:30pm-8:30pm Moon Hollow Brewing Company
Sunday, September 19th-Floyd, VA Floyd Americana and Folk Fest 2pm Outer Space stage
Friday, October 2nd- 3rd Street Coffee House Concert Series-
Saturday October 3rd– Blacksburg, VA Farmer's Market 9:30am-12pm
Saturday, October 9th– Little Switzerland, NC The Orchards at Altapass-1-3pm w/Ron and Minnie Powell
Oct 31st-Nov 6-John C Campbell Folk School " Uke Can Do It!"-Intro to Ukulele week long immersion– register at John C. Campbell Folk School
More dates TBA ! contact bookashdevine@gmail.com for more info about booking
"Ash Devine's vocals whisper like an old timey back woods wind. " Beth Simpson (producer)
Ash's unique background and ability to connect with her audiences through story and sound makes her music deeply relatable and emotionally compelling for people of all ages.
Visit Ash's Electronic Press Kit
Ash Devine, the Appalachian folk tradition, and Maybelle Carter
In summer 2015, Ash Devine blew audiences away with her finger picking Carter scratch style when she starred as legendary country stars Maybelle Carter of the Carter Family in the Parkway Playhouse production of "Esley: The Life and Music of Leslie Riddle". As co-musical director, Ash Devine authentically re-created the Carter family sound. In 2018, Devine directed and co-produced A tribute to Carter Family and Women in Old Time at the White Horse Black Mountain, NC. In 2020, Devine developed a one woman show highlighting stories and songs from the Carter Family, and the origins and history of their music. Ash offers concerts featuring traditional folk music from WNC and music of the Carter Family. Concerts are available solo or with a band accompaniment.
"Ash Devine and Saro Lynch Thomason did a fine job, and really caught the essence of that dry yet driving Carter family harmony." Grammy Nominee Musician and Folk-Lorist David Holt, Grammy nominee, folklorist and Award-winning musician

" Ash Devine was channeling Maybelle Carter."-Minnie Powell (Musician )
Ukulele workshops and private lessons 2021:
Ash Devine offers beginning and intermediate Ukulele Workshops and private lessons online for adults and youth.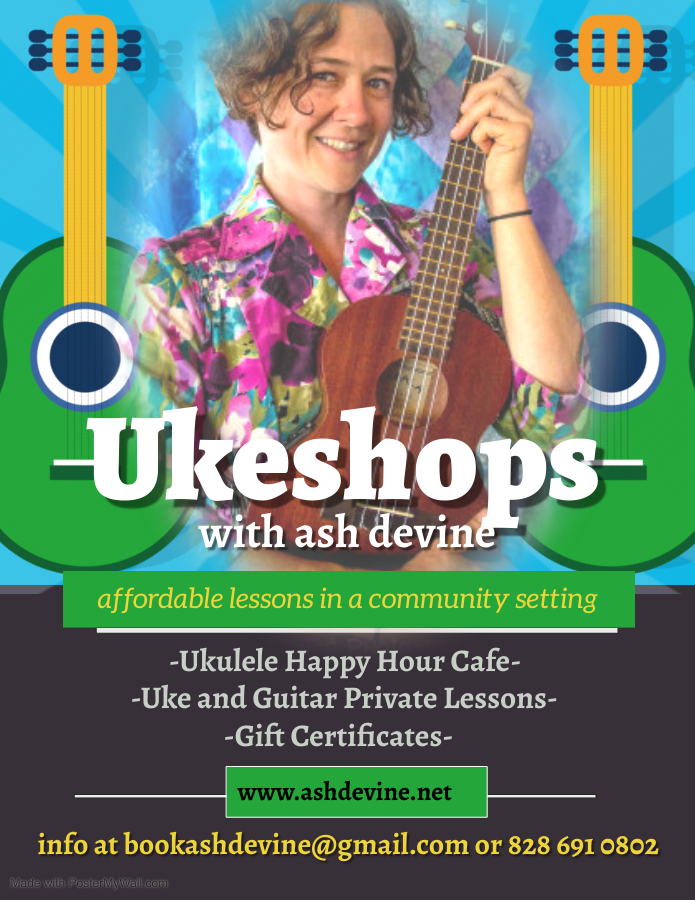 To schedule a Uke workshop or lesson series, please contact Ash Devine at bookashdevine@gmail.com