Songwriter, Multi-instrumentalist, Caring Clown, Teaching Artist and Performing Artist
On Tour : Winter/Spring 2016
Friday Jan 22nd- Asheville Fringe Festival– Puppet Show "Under the Hills" – ToyBoat Circus Arts Center – 7pm  Asheville, NC
Sunday Jan 24th- Asheville Fringe Festival– Puppet Show "Under the Hills" – ToyBoat Circus Arts Center – 4pm – Asheville, NC
Feb 9th- Highland Farms Health Care- 2:30pm- Black Mountain, NC
Thursday Feb 18th: The Block Off Biltmore – Asheville, NC – 7:30pm  w/Songwriter Gretchen Witt
Songwriter Ash Devine :
Award winning songwriter, folk rock musician, caring clown, theater artist and social activist Ash Devine is based the Blue Ridge Mountains of Asheville North Carolina. Her musical style spans across genres of contemporary folk, traditional Appalachian, jazz, world and experimental. In 2014, Ash Devine released her second collection of Original music, "Blessings on Your Journey", a dynamic collection of heart felt songs with universal messages of social justice, love, human struggle and earth advocacy. Ash is a community based artist and she performs internationally at music venues, theaters, churches, nursing homes, schools and hospitals.
"Her folk Fusion style gleans sounds of Appalachia, old time blues and jazz and traditional ballads. Songs are played on Guitar, Ukulele and powerful vocals that whisper like an old timey back woods wind. " -Beth Simpson
On stage, Ash engages audiences in story and she encourages participation. Ash Devine has been described as a contemporary Pete Seeger type of performer. The music is like Pete Seeger Joan Biaz, Arlo Guthrie, Michelle Shocked, Joan Armatrading, Neil Young.
Caring Clown Ash Devine:
Ash Devine studies and performs internationally with the world renowned Clown MD and Activist Patch Adams. Ash offers interactive music and fun programs for elderly and humanitarian workshops for all ages.  Over the past 8 years, Ash Devine has visited and performed her Interactive Music and Fun program in Nursing Facilities nationwide and globally. Visit the Community Programs page for more info about Ash's Caring Clown programs.
Available Programs: Ash Devine offers full length original concerts for the public, customized concerts for private events, instrumental accompaniment, music lessons and mentoring, emcee services, educational programs for children and interactive sing along and fun programs for elderly and persons with special needs. Book Ash Devine for your next event, workshop or program, please visit the contact page and view Ash Devine Press Kit .
The Picket Sisters: Songstress Ash Devine and Ballad Singer Saro Lynch-Thomason
Ash Devine and Saro Lynch Thomason are "The Picket Sisters". The Picket Sisters offer a variety of Original music and Authentic interpretations of Carter Family, traditional ballads, union and activist driven music. The two also offer group song workshops and educational programs based on Appalachian musical heritage and natural history of the Appalachian region for all ages.
 Ash Devine and Saro Lynch Thomason are Maybelle Carter and Sara Carter of the Legendary Carter Family Band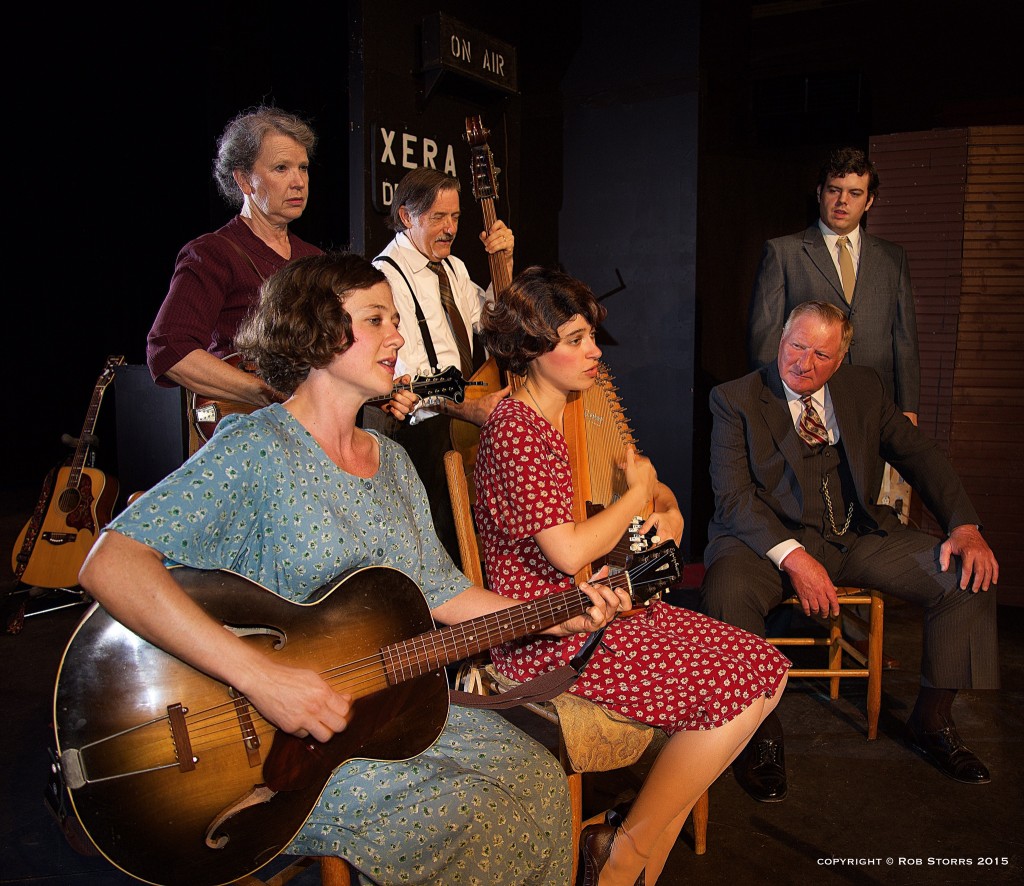 Summer 2015, Ash Devine and Saro Lynch Thomason starred as the legendary country stars Maybelle Carter and Sara Carter of the Carter Family in the Parkway Playhouse production of "Esley: The Life and Music of Leslie Riddle".  As co-musical directors, Ash and Saro authentically re-created the Carter family sound.
Ash and Saro offer concerts featuring authentic re-creations of Carter Family music and Appalachian folk traditional songs./ They also offer group song workshops. To book us as Maybelle and Sara Carter visit our contact page.
"Ash Devine and Saro Lynch Thomason did a fine job, and really caught the essence of that dry yet driving Carter family harmony." Grammy Nominee Musician and Folk-Lorist  David Holt 
" Ash Devine was channeling Maybelle Carter."-Minnie Powell (Musician )