Award Winning Songwriter and Folk Artist Ash Devine 
Award winning songwriter, folk rock musician and multi-talented humanitarian folk artist is based the Blue Ridge Mountains of Asheville, North Carolina. Sharing unique a unique and classic folk sound and a connective and interactive stage presence, Ash Devine performs at festivals, listening rooms, private events, churches, farmers markets, nursing homes, group-homes and more ! Recently seen on stage with Appalachian folk legends David Holt and Sheila Kay Adams, Ash Devine's folk Fusion style gleans sounds of Appalachian traditional folk, americana-pop and classic rock. Ash Devine is an accomplished instrumentalist on finger-style and Flat Pick style Guitar and innovative original Ukulele picking style. Her breathy and rich vocals and finger picking guitar styles sound like a marriage of Maybelle Carter and Pete Seeger with Kate Bush as the producer . "Ash Devine's vocals whisper like an old timey back woods wind. " -Beth Simpson Ash's stage presence is dynamic, charismatic and steeped in audience connection and participation. Comparable to Pete Seeger, Ash weaves activist themes and stories of human and environmental struggle and community into her songs and stories and often invites audiences to join in song.
Winner of best Original Composition at Sound Lab Roanoke, VA 2001. Best original Music Selection Twin Rivers Film Festival 2008. 1st place winner at Brown Bag Songwriters Competition 2010.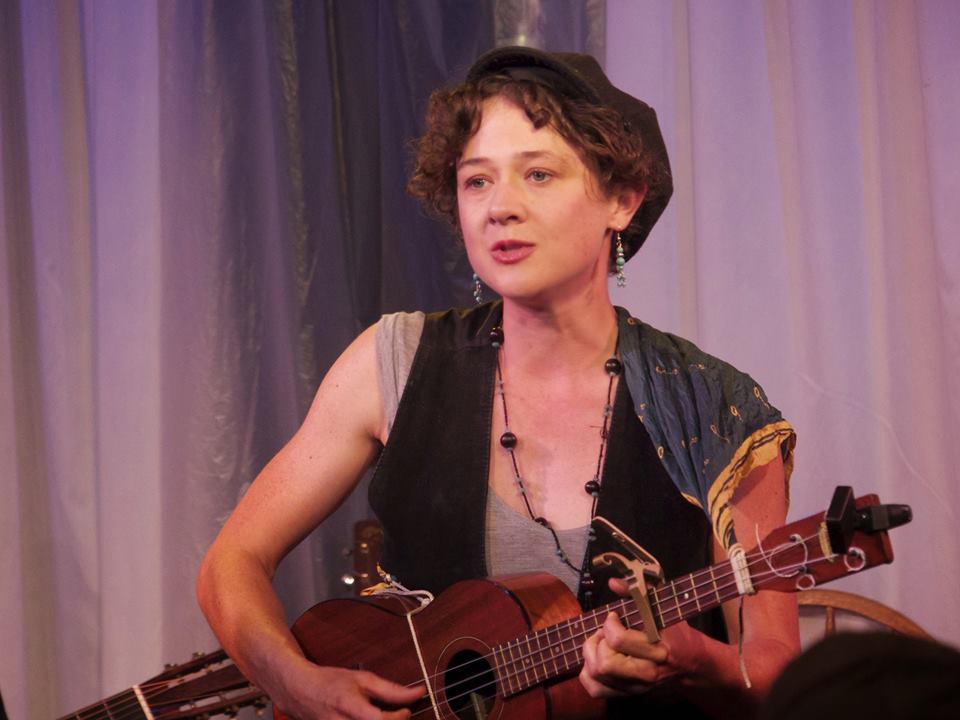 In summer 2015, Ash Devine blew audiences away with her finger picking Carter scratch style when she starred as legendary country stars Maybelle Carter of the Carter Family in the Parkway Playhouse production of
"Esley: The Life and Music of Leslie Riddle"
.  As co-musical director, Ash Devine authentically re-created the Carter family sound. 
Ash offers concerts featuring traditional folk and music of the Carter Family. Concerts are available solo or with a band accompaniment. 
"Ash Devine and Saro Lynch Thomason did a fine job, and really caught the essence of that dry yet driving Carter family harmony." Grammy Nominee Musician and Folk-Lorist  
David Holt 
" Ash Devine was channeling Maybelle Carter."-
Minnie Powell (Musician )
"Her whispers like a backwoods wind " -Elizabeth Simpson - Activist and Artist
On Tour Spring/Summer 2016
Sat. Feb 27th: The Sharpie Gallery w/ Flint Blade, St. Petersburg, FL 2-6pm Feb 27th-Feb 28th: Florida Herbal Conference Mon Feb 29th: Madonna Ptak Rehab, Clearwater, FL Wed March 2nd: Oak Harbor Assisted Living, New Port Richey, FL Friday March 4th: Oak Hammock at University of Gainesville, FL 10:30 am Wednesday March 16th: Highland Farms Retirement Community, Black Mountain NC April 29th- White Horse Black Mountain- Opening for Andy Cohen April 30th- Honey Folk House Concerts- Opening for grammy award winning ballad singer Sheila Kay Adams. May 12th-14th- LEAF Festival . Black Mountain , NC May 19-21: South East Regional Folk Alliance . Montreat, NC May 28th- Asheville City Farmers Market: 9-12pm June 18th- Black Mountain Tailgate Market 9-12pm June 25th: Riddle Fest. Burnsville, NC