Ash Devine: Lead singer, lead songwriter/guitarist. Powerfully beautiful, breathy vocals, socially universal song topics, unique finger-picked world music influenced Ukulele, Appalachian/jazz/world fused acoustic guitar style.
Cellist Franklin Keel :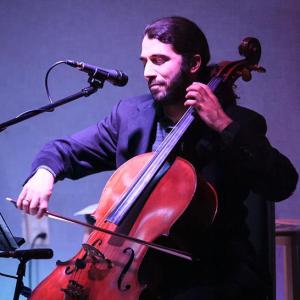 First Chair Cellist of Asheville Symphony, Cellist for "Sirius B", songwriter and composer.
Bassist F.M Turner: Co-Producer of Ash's album "Bird Must Fly", Award Winning Bass Player for "The Floorboards" . F.M is also a recording artist, songwriter, multi-instrumentalist and composer. Ash and F.M have been playing together for over 15 years and have an amazing connective stage presence.
Saro Lynch Thomason: When award winning ballad singer, activist, folklorist and song catcher Saro-Lynch Thomason performs vocal harmonies with Ash Devine, their sound is both haunting and playful. View Saro's music here http://sarolyncht.bandcamp.com/ view Saro's project to preserve appalachian heritage and end mountaintop removal through music here http://www.blairpathways.com .
Saro is also the designer and illustrator of Ash's website banner, "Music For Folk", 2014.