Professional musician and performance artist Ash Devine (Grad Cert.Gerontology) is a professional musician and an accomplished community based artist in Asheville, NC. For over 10 years, Ash has worked to develop research based innovative concerts and music-based activities for older adults in senior living, health care, home care and inter-generational settings. Ash plays a variety of styles including original folk-Americana, old country, traditional Appalachian, classic rock and favorite jazz songs of the Era. Her performances inspire fond memories, joyful interaction and community engagement with participants and facility staff.
Ash's musical programs are connective, entertaining and based in current research regarding the use of multi-sensory music and activities to enhance brain health and improve the quality of life of elders and their caregivers. Ash Devine has studied with world renowned arts and health practitioners such as Patch Adams, M.D. and NEA award winning non profit Songwriting works director Judith Kate Friedman.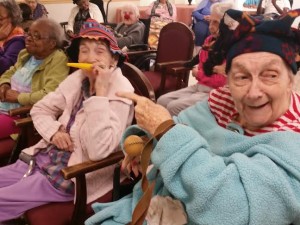 Devine offers a range of program types tailored specifically for senior living settings including formal concerts for independent living featuring familiar music of the depression era, old country, and the jazz era, as well as the therapeutic interactive concerts geared towards assisted living, Alzheimer's care, and skilled nursing care. Let us know what will work for you and we will design our program to fit your residents needs!
Click below to see more details about Devine's program offerings for retirement communities, assisted living and nursing care, and more!
Email bookashdevine@gmail.com or call 828 691 0802 for more information about booking Ash Devine in your community!
Click here to see more info about Ash Devine's Music Programs For Older Adults 2022
Example of Interactive Music Program with Ash Devine performing for nursing and rehab care in Sarasota, FL, 2020

Example of Ash performing a formal concert featuring the music of the Carter Family
View Interactive Music with Inter-generational groups promo video
Testimonials:
"Ash's ability to engage adults struggling with the effects of NCI's is absolutely amazing, during her performance I was surprised to see several of our residents with advancing cognitive conditions whom normally do not engage in group activities were able to interact enthusiastically." – (Speech Therapist at Crossings at English Meadows)
"The adult day folk choir was absolutely amazing. I've never seen so many folks who are usually non-verbal and unable to participate socially in group activity, actually socially engaged, and singing along." -(Adult Day Community Engagement Coordinator, Carpartner's in Asheville, NC)
Your program greatly enhanced the quality of life of our residents, you will always be welcome to return. – Eunice (Activities Director at Recency at Puakea , HI)
The work you do is awesome, some of those people I've never seen have so much fun as they did during your concert.– Meredith (activities assistant at Givens Estates , NC )
The residents really enjoyed you and we definitely going to have you back – (Kaitlyn Activities Director at Highland Farms, NC )
Some examples of past and current performance venues:
Warm Hearth Health Care and Assisted/Independent Living, Blacksburg, VA, 2014-2021
The Crossings/ English Meadows, Blacksburg, VA 2017-2018
Brookdale Senior Living Asheville, NC 2016-2020
Brookdale Alzheimer's and Memory Care, Asheville, NC 2017-2021
Givens Estates, Asheville, NC 2014-2021
CarePartner's Adult Day, Asheville, NC
Legacy at Augusta Lutheran Community, Staunton, VA 2018-2021
The Oak Hammock, Gainesville, FL 2016-2019
Brandon Oaks Nursing Care, Roanoke, VA 2010-2015
And many many more!
To Book Ash Devine for a service, visit CONTACT.